Private Practice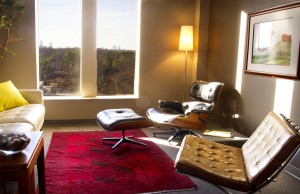 As with any relationship, therapy works best when there is trust, mutual respect and a sense of connection. I have found that a good working relationship goes a long way and offer a free phone consultation in order to evaluate whether or not we are a good fit.
Each therapist has a unique style. My style is direct, active and warm.  I do not tend to sit back and say nothing . I have no problem giving specific advice and opinions when asked. My experience is that whatever you focus on expands and therefore, sessions tend to be focused on solutions, not problems. While at times it is important and useful to delve into the past, the focus tends to be more on the present. Pain, stress and difficult times provide some of the best opportunities to create meaning and happiness.
I don't have a one-size-fits-all practice.  Sometimes,  clients need only one session focused on a particular problem. At other times, a deeper focus on breaking long-standing patterns is indicated.  To accommodate clients' individual preferences I offer flexibility in the length, intensity and frequency of sessions. Some people prefer brief appointments and others are just getting started as the hour is winding down.
Through the years I have found that individuals with the following characteristics benefit most from our work together:
willingness to: take responsibility for your own happiness, offer and receive direct and honest feedback, try new behaviors which may be uncomfortable, show up as scheduled, pay on time and give sufficient notice  when cancelling appointments
recognition that:  most of the work occurs outside of our sessions, no other person can "fix" you and just because the process is important  doesn't mean it has to be serious.
appreciation of: a sense of humor, honesty, integrity and autonomy
Through my work and training I have helped people in a variety of areas. Some examples include:
Personal Development: increasing sense of purpose, meaning and engagement in the world; answering the question "Who am I and why am I here?", improving listening and other communication skills, setting effective boundaries and limits with others, assertiveness, overcoming obstacles to spirituality, support those actively involved in 12-step programs to more effectively work the steps, increasing optimism and happiness, improving self-esteem and body image, perfectionism
Relationships: deeper connection with partner, coping with family changes, dating and decision making about commitment to a specific person, changing patterns of picking "the wrong type", improving parenting skills and communication, not dreading (and actually enjoying) visits from family (and yes, even in-laws!)
Emotional:learning to manage anger and other strong emotions; overcoming resentment, forgiveness; identifying, treating, managing and preventing depression,panic attacks, phobias, bipolar disorder and posttraumatic stress disorder
Grief: loss of a loved one, a job, a relationship or divorce
Medical: improving the immune system through more positive thinking, coping with a new medical diagnosis such as cancer, diabetes and autoimmune disorders; motivation to improve healthy behaviors and overcoming anxiety related to medical or dental procedures
At this time I am accepting new clients. To schedule a phone consultation please send an e-mail to contact@paulabloom.com
If  following our phone consultation  we decide to move forward you will receive an e-mail with information about the office location and any forms you might need to fill out and bring to our first session.
The office is located in downtown Decatur, just blocks from the Decatur MARTA station.