Speaking Engagements
If you want a speaker to inform, entertain and inspire than you may want Dr. Paula Bloom at your event.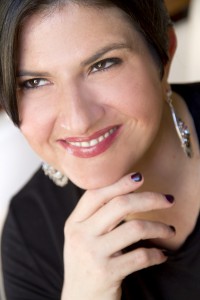 All presentations are tailored to meet the specific needs of the organization and are available in both English and Spanish. Some of the most popular presentations include:
"Zip It! The Power of Effective Listening for Maximum Success" People who are good listeners are often perceived as being more caring, trustworthy and competent which can lead to greater professional and personal development and success. Come learn some powerful communication skills that will improve your relationships (even with your spouse and kids!) The better you listen the more you'll be heard!
"Optimism: what's the point?" Tough economic times, job loss, bankruptcy, terrorism, illness, crime…why would anyone who isn't an idiot be optimistic? Dr. Bloom will challenge our assumption that being an educated, informed, skeptical thinker makes optimism impossible or naive. During this presentation Dr. Bloom will offer tools that empower you to filter out pervasive negativity and hopelessness and focus on meaning, purpose, hope and joy.
"What can you do to lower your kid's future therapy bills?" We all want to raise happy, healthy productive children.What are the characteristics of individuals who are able to withstand stressors, avoid future mental health issues and thrive? Dr. Bloom will explain how most parents are worrying about the wrong things. We will discuss resilience, the concept of "good-enough" parenting and practical strategies that help foster it.
"I'm Not Defensive; You're the One Who's Defensive" Are you confused about why others don't respond to you a specific way? Do you wish you knew what kind of first impression you give? Would you like your boss to hear your suggestions more often? Being open to feedback can not only give you information about yourself but also about others.What people praise or criticize in you can be very revealing. Dr. Paula Bloom will provide practical suggestions for giving effective feedback as well as how to encourage others to do so. When you leave this presentation you will have a clearer sense of how you can improve interpersonal communication that will serve to enhance your professional and personal relationships.
"Depressed or just deep?" People cope with life transitions in a variety of ways. With today's economic climate we are seeing people become down. Some in the field have even said that there has been an increase in suicide rates. How do you know when someones behavior is a normal response to stressful circumstances ? How do you decide when to suggest that someone seek mental health care? We will examine the spectrum of human coping responses, warning signs of difficulties and specific suggestions for how to assist those in need of help. This is an excellent presentation for any group or organization, professional or social.
For more information or to schedule a speaking engagement please e-mail contact@paulabloom.com